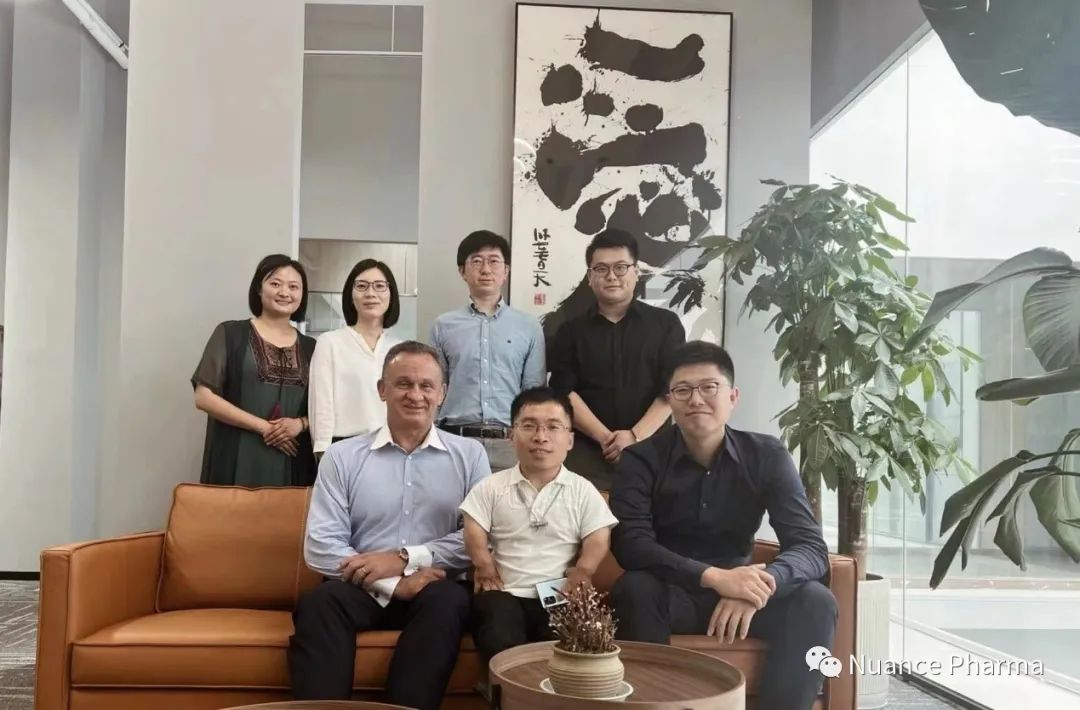 (left to right) Nuance CEO Mark Lotter, CORD founder Huang Rufang, Nuance COO Charlie Chen
July 11th, 2022, Mr. Mark Lotter, founder and CEO of Nuance Pharma, visited Chinese Organization for Rare Disorders (CORD) and met with Mr. Huang Rufang, founder and president of CORD.
The core teams shared organizational visions and missions and achieved congruence in core areas where both parties strive to solve unmet medical needs, advocate for medical R&D innovation and caring for the disadvantaged.
With Nuance's solid experience in bridging global leading medical resources as well as CORD's renowned social influence, it is believed that the duo partners shall promote the R&D milestone for rare disease treatment in China.
In the meeting, Ms. Meng Haijin, Chief Medical Officer of Nuance Pharma, shared the current standard treatment for Neonatal Respiratory Distress Syndrome (NRDS), a rare disease by morbidity, and introduced the R&D plan for AeroFact™, an innovate new therapy combining a well-acknowledged pulmonary surfactant drug with proprietary vibrating mesh nebulizer aerosolization technology. AeroFact™has received Fast Track and Orphan Drug designations from FDA as well as Orphan Drug designations from EMA.
Going forward, Nuance shall continue to promote rare disease R&D advancement with CORD, for doctor and patient education, clinical research, registry administration and ever more in-depth collaboration.
Rare Disease Not So Rare
The low morbidity rare diseases, 80% of which are genetic diseases caused by genetic defects, are chronic, severe, life-threatening diseases. There are 300 million patients with rare diseases worldwide and over 7,000 known rare diseases, fewer than 10% with valid therapeutic treatments.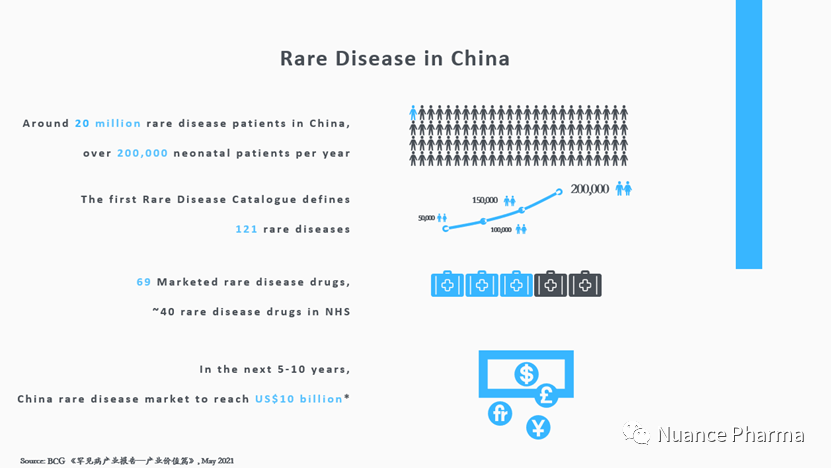 With the large population, there are over 20 million rare disease patients in China and over 200,000 additional neonatal patients every year. Rare disease treatment has officially become a major issue for public health in China.
On March 5th, 2022, Prime Minister Mr. Li Keqiang announced the inclusion of enhancing the protection of rare disease medication in the 2022 Government Report.
Innovative Policy-driven Support

On May 9, 2022, NMPA issued the Regulations for Implementation Guidelines of Drug Administration Law (Amendment Draft), announcing a 7-year, exclusive protection term for approved new drugs for rare disease. The Guideline also proposed a 12-month market exclusivity right for the first approved pediatric medicine.
Nuance On the Move
In 2021, Nuance Pharma successfully licensed in AeroFact™, an innovative, non-invasive, first-in-class therapy for NRDS, with exclusive rights to develop and commercialize AeroFact™ in Greater China.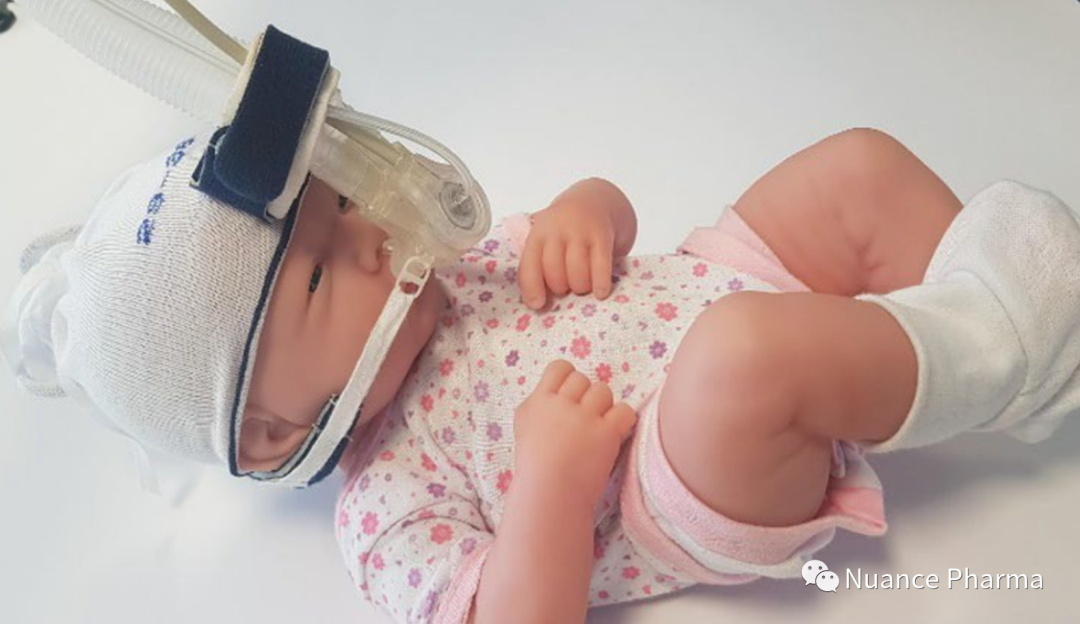 Every year, about 140,000 newborns suffer from NRDS. Compared to the practicing pulmonary surfactant (PS) organ intubation treatment, the AeroFact™ non-invasive approach will significantly reduce injury risks resulted from intubation and provide consistent and highly efficient drug delivery.
Mark G. Lotter, CEO and founder of Nuance, commented: "RDS, as a breathing disorder, is rare disease in terms of absolute prevalence rate, but quite common in premature infants. We are thrilled to collaborate with our long-time partner Aerogen on AeroFact™, to set a new standard in treatment of NRDS, and to address the critical unmet medical needs through provision of less invasive treatments for highly vulnerable infant patients."
As a young member to the Chinese healthcare industry, Nuance Pharma shall adhere to our core value of patient centricity and uphold the corporate social responsibility to empower the R&D innovation for rare disease. Collectively, we shall accomplish the mission of Healthy China 2030 while bringing more effective treatments to patients worldwide.
---
About AeroFact™

AeroFact™ is a nasally inhaled surfactant based on a combination of the long-established bovine lung surfactant Alveofact® (Lyomark Pharma GmbH, Germany) with a precise and highly efficient nasal delivery system featuring Aerogen's next generation "PDAP™" delivery technology and a touch-screen controller interface. Aerosol delivery of pulmonary surfactant to preterm infants through the nose to the lung is extremely demanding, due to both the technically challenging physical properties of the drug and the difficulties inherent in treatment of such small patients, yet has been achieved by PDAP, a technical breakthrough based on patented enhancements to the Aerogen group's market-leading aerosol generator technology (www.aerogen.com).
AeroFact™ is expected to reduce the need for sedation, invasive intubation and mechanical ventilation, all features of current surfactant treatment methods associated with adverse side effects and the potential to exacerbate chronic lung disease in preterm infants.
About CORD
Mr. Huang Rufang founded CORD in 2013, and Mr. Liu Zhihong (president of the Zhejiang Medical School), served as the first honorary president. CORD is a not-for-profit organization dedicated to rare disease treatment area.
CORD is committed to raise public awareness for rare disease among patient groups, rare disease organizations, medical institutions, healthcare corporations and government sectors, while promoting the R&D milestone and international communication of rare disease research.
About Nuance Pharma
Nuance Pharma is a patient-centric and innovation focused biopharmaceutical company. Focusing on specialty care, Nuance's portfolio represents a differentiated combination of commercial stage and innovative pipeline assets across respiratory, pain management, emergency care, and iron deficiency anemia.
Nuance has built a late clinical stage innovative portfolio, while maintaining a self-sustainable commercial operation.
*Disclaimer: products and indications mentioned in the article are not approved in Greater China. Nuance Pharma does not recommend the use of any unauthorized medical treatments.